Retainers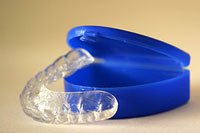 Wear your retainer at all times, until a doctor instructs otherwise.
Take your retainer out when eating, and always put it back in its case! (Most appliances are lost in school lunchrooms or restaurants.)
Clean your retainer thoroughly once a day with a toothbrush and toothpaste. Use warm but not hot water. Brushing retainers removes the plaque, and eliminates odors. Efferdent® or other orthodontic appliance cleaners can be used but do not take the place of brushing.
When your retainer is not in your mouth, it should ALWAYS be in its case. Pets love to chew on them!
Initially, you may find it difficult to speak. Practice speaking, reading, or singing out loud to get used to it faster.
Retainers are breakable, so treat yours with care. If your retainer gets lost or broken, call us immediately.
If you have any questions or concerns about your retainer, or you believe it needs adjusting, call us. Do not try to adjust it yourself.
Always bring your retainer to your appointments.
Retainer replacements are expensive, but with proper care they will last for years!
Remove your retainer when you go swimming.
Keep retainers away from hot water, hot car dashboards, pockets, the washing machine, and napkins.
Palatal Expander
The palatal expander "expands" (or widens) your upper jaw by putting gentle pressure on your upper molars each time an adjustment is made. The animation below will instruct you about when and how to adjust your expander. When you achieve the desired expansion, you will wear the appliance for several months to solidify the expansion and to prevent regression.
Adjusting the palatal expander
You can also download these instructions in a printable PDF document.
Step 1
In a well-lit area, tip the patient's head back.
Step 2
Place the key in the hole until it is firmly in place.
Step 3
Push the key toward the back of the mouth. You will notice the fender will rotate and the new hole will appear. The rotation stops when the key meets the back of the expander.
Step 4
Press back and down toward the tongue to remove the key. The next hole for insertion of the key should now be visible.